Motorboat KS-18 Novik
KS-18 "Novik" is classic motor boat for coastal and inner waterways cruising, she is based on model of Dutch motor cruiser Kaptain Sloop.
The hull is made of welded aluminium alloy, painted with polyurethane paint, the deck and house are made of teak wood/epoxy composite.
Economical and reliable diesel engine Vetus is good for pleasure motoring at comfortable speed about 5 knots on rivers, canals and lakes. The boat can be transported on trailer, towing by midsize car. The propeller and shaft are protected with long keel for easy beaching on any riverbanks. The boat is sound build with quality finishing inside, small cooker and compact toilet are helpful in weekend or longer cruising.
This motor boat KS-18 "Novik" was built upon order of client from Moscow for family cruising in summer time.
The owner still keep this boat in perfect condition as new and satisfied with KS-18.


LOA
Hull length
Beam
Draft
Displ.
Ballast
Fuel
Water
Black water
Engine
Berth
Category CE
Designer
Builder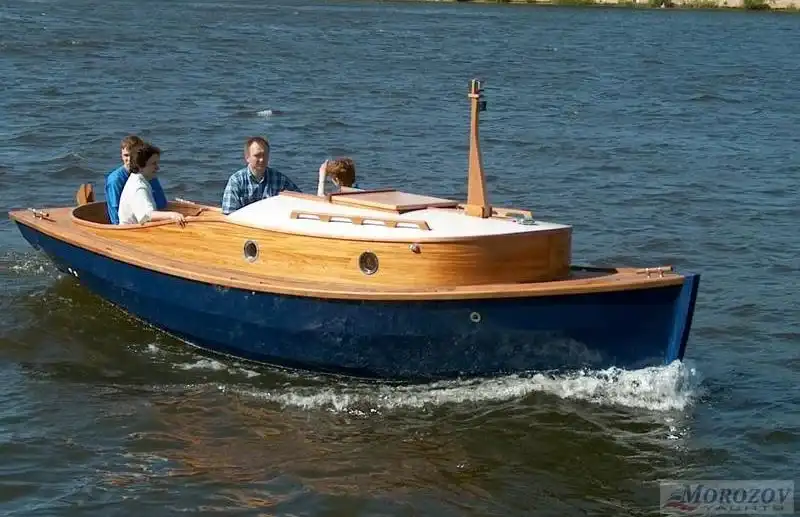 6.00 m
5.80 m
2.20 m
0.50 m
950 kilos
350 kilos
100 l
60 l
10 l
Vetus 11 h.p.
6 knots
"C" Inshore
Nikolay Kazarov
Morozov Yachts


Features