Features
LB-74 "Acico"
Length
Beam
Draft
Displ.
Fuel
Water
Engine
Speed max
Cruising speed
Economic speed
Range
Category CE
Concept
Design
Management
Builder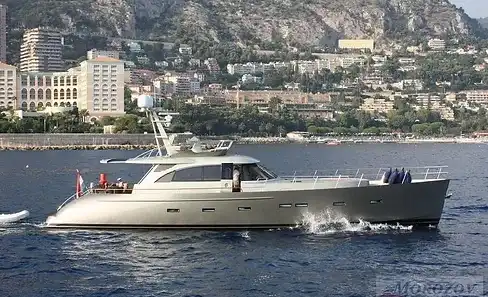 Neo-classic aluminum motor yacht LB-74 (Acico-74) was designed and built for client, who wanted to make the long range cruising with family in comfort and style. Special attention was paid to soundproofing, this yacht is like "soundless" boat.
The hull form was optimized for long range motoring at economic speed with low fuel consumption, but the maximum speed is about 24 knots to make easy quick jump to the nearest port in case of bad weather or other needs.
Light and airy upper saloon is good for Baltic and the open aft deck is for Mediterranean.
Full specification of modern equipment will allow you to make safe navigation, run your business and relax with your family on board of your yacht in any part of the world.
Custom interior with natural light Alpi veneer with modern minimalist styling make the feeling of "sailing yacht" and "green boat" together.
Professionally designed and built by Dutch specialists.


22.40 m
6.20 m
1.60 m
50.000 kilos approx
7500 l
1500 l
2 x 750 h.p.
24 knots
12 knots
10 knots
1500 miles
"A" Ocean
B.Levyant
Oliver van Meer
Morozov Yacht
Dutch Yacht Builders SA