Features
Classic yacht Morozov-30 was designed and built upon order of client form Moscow for cruising on Baltic Sea and inner waterways of Russia.
The boat is build of welded aluminium alloy with interior finished of teak wood trimming and painted bulkheads. The swing lifting keel allows for motoring in shallow waters, but internal ballast and big sale area perform the good sailing performance. The rudder is fully protected by long keel for passing the rivers and canals. Her hull is very sound build, good insulated and finsihed with natural materials, it give the feel of safety and comfortable vessel.
After intensive cruising on Baltic, the boat was moved to Mediterranean Sea. The solid wooden mast and boom were replaced with very original aluminium mast with immitation of wood. The combination of classic hull and modern rig perform the good sailing.
Morozov-30 is original yacht, which attracted the attention in any port, as no many such boats you can see in marinas today.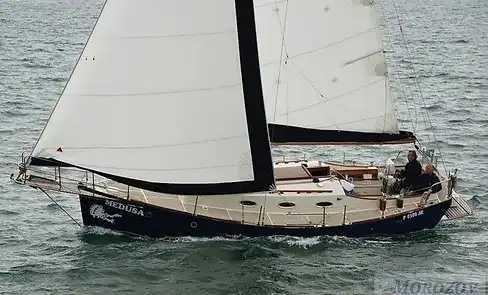 11.70 m
9.20 m
3.30 m
1.10-1.70 m
6500 kilos
2500 kilos
56 m2
215 l
170 l
61 l
Yanmar 26 h.p.
4 person
"B" Offshore
Nikolay Kazarov
Morozov Yachts
LOA
Hull length
Beam
Draft
Displ.
Ballast
Sail area
Fuel
Water
Black water
Engine
Berth
Category CE
Designer
Builder
M-30 Medusa