Length
Beam
Draft
Sail area
Displ.
Fresh water
Fuel
Black water
Grey water
Engine
Berth
Category CE
Concept
Visualisation
Naval architect
Builder
M40 ROSA PH Classic
11.99 m
3.85 m
1.60 m
80 m2
8100 kilos approx
550 l
390 l
80 l
100 l
Nanni 50 h.p. 2800 rpm
4 + 2 persons
"A" Ocean
Alexander Morozov
Igor Dudnikov
TBA-Morozov yachtsr
TBA-Morozov Yachts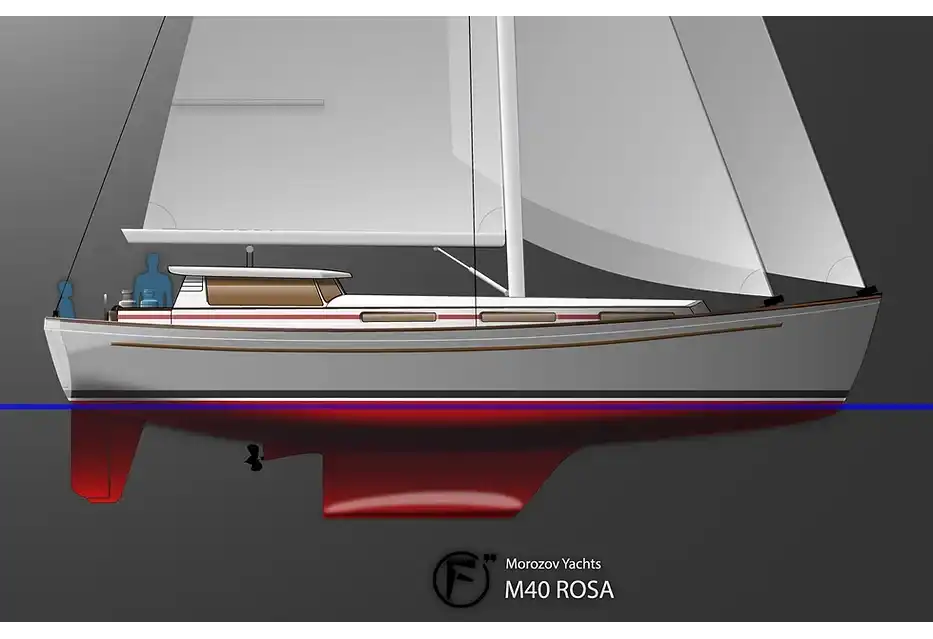 - fully enclosed wheelhouse for sailing in all weathers
- full size bimini to protect the entire cockpit from the sun
- aluminum welded hull and deck with 3 watertight bulkheads
- watertight rudder box
- watertight forepeak box
- separate compartments for batteries and pumps
- built-in keel (without bolts) with moderate draft
- significant storage capacity for supplies and supplies
- 2 electric and one manual bilge pumps
- standard 2800 rpm diesel low speed engine with shaft and thrust bearing
- 3-bladed Gori folding propeller with overdrive option
- 2 fuel tank with drain plug and water separator - diesel heater in saloon
- aluminum Selden mast with reliable corrugation system
- deck electric anchor winch with capstan for the second anchor line
- B&G electronics, autopilot and radar
- Icom VHF radio station with remote control in the cockpit
- 50A charger and 2 kW inverter
- life raft for 4-6 people
Features
M40 ROSA Pilothouse Cutter is new concept of modern classic pilothouse cruiser for long range cruising with small crew of 2 person with ocassional 2-4 guests. The boat will be built of aluminium alloy or composite, with practical and minimalist concept as the base.
It means that this boat will have the simple neo-classic interior with painted surfaces and minimal teak wood trimming, the deck will be painted or covered with non-skid cover for easy maintenance.
Aluminium welded hull can be with bare metal surface ("Silver sound" version) or painted up to choice of colours or covered with vinyl film.
The equipment will be basic and simple, but enough for sailors to make safe cruising with minimal problems for repair or service, in opposite to modern over-equipped yachts.
Moderate draft, skeg protected rudder and propeller, built-in (no bolts) keel, no generator (only solar and wind charging), all for simple and and reliable cruising worldwide. This yacht will be built by Dutch specialists upon order and final specification.
Concept