M50 RITA Classic
Length
Beam
Draft
Sail area
Displ.
Fresh water
Fuel
Black water
Grey water
Engine
Berth
Category CE
Concept
Visualization
Naval architect
Builder
Featutes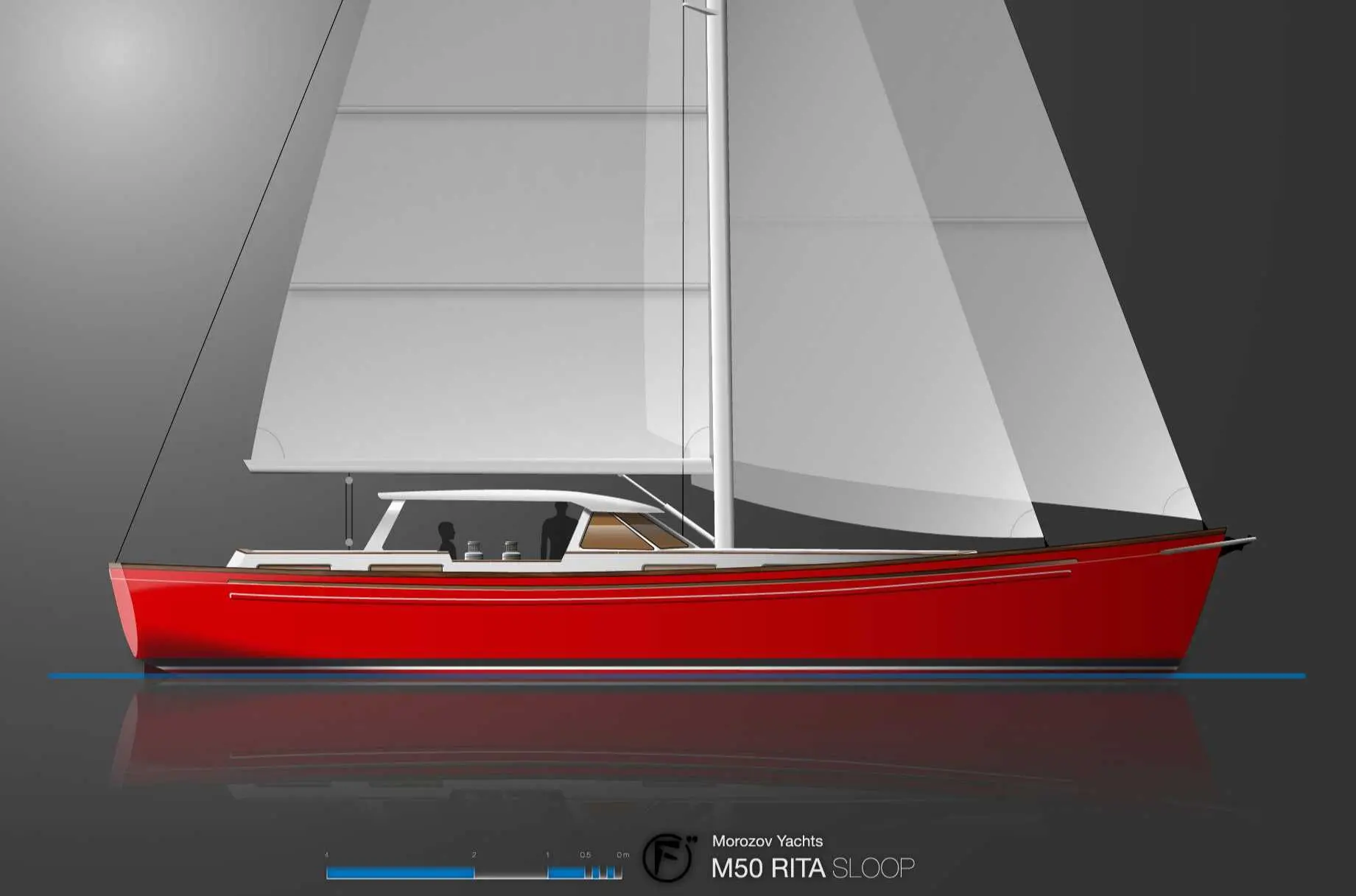 Concept
15.20 m
4.20 m
2.00 m
150 m2
12000 kilos approx
800 l
600 l
80 l
100 l
Yanmar 80 h.p. 3200 rpm
4 + 2 persons
"A" Ocean
Alexander E. Morozov
Igor Dudnikov
TBA-Morozov yachts
TBA-Morozov Yachts


M50 RITA is medium size cruising yacht for long range ocean cruising with small crew and live aboard.
The boat will be built to the highest Dutch quality standarts with practical and minimalist neo-classic finishing.
Aluminium welded hull can be with bare metal surface or painted up to choice of colours. The deck is made of aluminium or composite, foam sandwich with vacuum infusion or wood/epoxy. As all yachts of M-seria, M50 RITA has the build-in keel and skeg protected balanced rudder. The yacht has a very high level of safety, watertight forepeak and engine compartment, forward and aft floatation volumes.
The equipment is basic and simple, but enough for sailors to make the safe cruising with minimal problems for repair or service, in opposite to modern over-equipped yachts. The final specification is upon the order the boat and wishes of owner.
The central full wide cockpit is very spacious, two living zones with separate entrance from cockpit. The cockpit is protected from elements with the fixed solid sprayhood and full roof, the sides are covered with soft enclosures, depends of weather conditions. You can have the open cockpit for warm weather sailing or practical pilothouse for winter or cold seasons.
The 3 options of rig: cutter, ketch or staysail ketch. The staysail ketch is new version of rig, where the middle stay sail is act as the mainsail, easy reefing and handling on any course, reefing of any sail in just few minutes. M50 RITA is building upon order at professional boatyard in Netherlands.


3 options of rig: cutter, ketch or staysail ketch
full wide central cockpit and 2 living zones
combined pilothouse for any weather conditions
protected deep cockpit with easy access to the winches
fixed sprayhood and roof for protection from sun and rain
medium displacement hull with balanced heeled waterlines
aluminium alloy 5083 welded hull with 4 watertight bulkheads
composite foam or wood cored deck, pilothouse and cocpit, more height inside and better insulation
foam insulation min 100 mm above the water line
watertight rudder compartment for safety reasons
watertight forpeak sail locker and engine compartment
folding transom part as swimming platform with removable ladder
aft dafits for full size rigid bottom dinghy, also place for storage on aft deck
built-in rub rail and bulwark with integrated fair leads for mooring lines
battery and pumps in watertight engine room
built-in keel (no bolts) with moderate 2 m draft
tampered glasses with aluminium frames on pilothouse
Lewmar deck hatches "Ocean" type with moskito nets and blinders
deck ventilators Dorado for cabin, salon, galley, toilet, pilothouse.
full size showers and separate toilets
electric and one manual pumps to drain out the main bilge tank
standard diesel engine Yanmar 80 h.p. @ 3200 rpm, alternator 100A + Balmar alternator 180A
3 blade folding Gori propeller with overdrive option
big fuel tanks with drain plug, 2 fuel filters and water separator
hot/cold water pressured system with low noise and consumption electric pump
diesel heater in main salon (option)
gas or diesel cooker in galley
aluminium Selden rig with RDS cars and reliable reefing system, s/steel rigging
B&G electronics
Mastervolt battery charger 220/12V 50A
one main anchor Rocna 25 kilos with chain 10mm 60 m + rope rode 40 m
safety raft for 4-6 person