Soler-39 Expedition
Features
11.99 m
3.99 m
1.45-2.80 m
17.45 m
98 m2
9000 kilos approx
3000 kilos
2 x 250 l
240 l
Yanmar 54 h.p.
2-6 person
"A" Ocean
Alexander Morozov
Teixido&Harrold Yacht Design
TBA-Morozov yaxhts
Concept
- fully enclosed cockpit with all-round visibility for stormy weather and internal helm station
- protected cockpit, partly covered by deckhouse roof and sidewalls
- professionally built aluminum alloy hull and deck, painted to order
- aluminum alloy or composite cockpit
- built-ik keel with lead bulb for navigation in shallow waters, minimum draft of only 1.45 m
- ballast lifting swing board for tacking, maximum draft of 2.8 m
- very well thermally insulated hull, 50-100mm polyurethane foam
- rudders and propeller protected by skegs to prevent damage to floating objects
- stern garage for RIB dinghy with aluminum bottom
- stern platform for swimming and loading provisions from dinghy
- two full-sized cabins, one in the bow and the second amidships for less impact of rolling at sea
- storm berth in the aft, near the navigation station
- large portside compartment that can be used as a locker or workshop
- insulated forepeak for sails and fenders
- reliable Yanmar 545 hp diesel engine with a shaft
- 2 alternators, regular 80A and a second alternator 180A Balmar with an external regulator
- modern B&R electronics
- large fuel and water tanks with an additional watermaker installation
- a large number of pantries and lockers for storing supplies



Soler-39+ Expedition is a new aluminum expedition cruising yacht based on the Soler-35 Fast Cruiser prototype, on which new design solutions and systems were tested during a 2-year operation. This yacht is designed for long-distance cruises with a small crew of 1- 2 people, but with the possibility for additional 2-4 guests.
Reinforced, welded, unpainted, marine-grade aluminum alloy hull is maintenance-free. The keel built into the hull, with a lead ballast bulb and a lifting ballast daggerboard, makes it possible to navigate the canals of France, inland waterways and the shallow areas of the Caribbean.
The yacht has 2 watertight bulkheads, isolated engine and battery compartments. Practical interior trim, no wooden details on the deck, simple and proven systems make this yacht reliable in navigation and easy to maintain.
The hull design is built on planes, which greatly simplifies and speeds up the construction of the hull, without significant loss of sailing performance.
The underwater part has symmetrical heeling waterlines and the yacht keeps her course exceptionally well and at the same time very well controlled.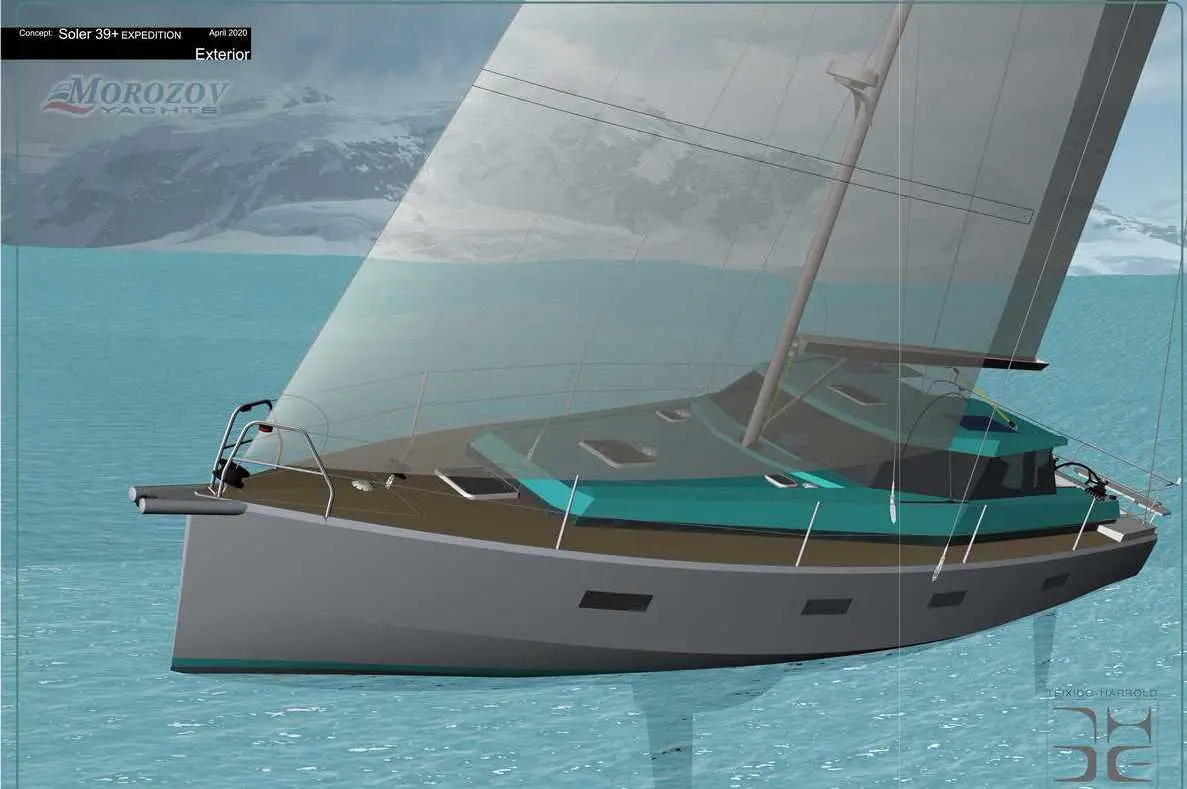 Length
Beam
Draft
Air draft
Sail area
Displacement
Ballast
Fresh water
Fuel
Engine
Berth
Category CE
Concept
Naval architect
Builder