The Soler-49 Janetta is a new aluminum expedition cruiser based on the prototype Soler-35 Fast Cruiser, on which new design solutions and systems have been tested over 2 years of operation. This yacht is designed for long-distance cruising with a small crew of 1-2 people, but with the possibility of accommodating an additional 2-4 guests. Reinforced welded and unpainted marine grade aluminum alloy hull requires little maintenance, only occasional anti-fouling painting.
The yacht has 3 watertight bulkheads, isolated engine and technical compartments, even with partial flooding in the event of an accident, all systems will work normally. tacking characteristics and reduced roll. The design of the hull is built on planes, which greatly simplifies and speeds up the construction of the hull, without a significant loss of driving performance, which has been repeatedly proven in design studies.
The underwater part has symmetrical heeling waterlines and the yacht holds its course exceptionally well and at the same time is very well controlled. This system allows you to reef the sails on almost any course and the sail always has the correct shape. Two rudders with skegs not only protect against damage, but also support the hull when dry at low tide or when going ashore. The motor shaft and propeller are protected by a skeg to protect against nets and floating objects. The light draft makes it possible to pass through canals and rivers and swim in shallow water areas. The yacht is multifunctional and can be adapted for specific purposes.



Features
14.9 m
4.99 m
1.50-2.80 m
17m
150m2
12000kg
3000kg
800 1
300 1
54 hp engine
2/6
A Ocean
Alexander Morozov
Igor Dudnikov
Teixido&Harrold - Morozov Yachts
TBA=Morozov Yachts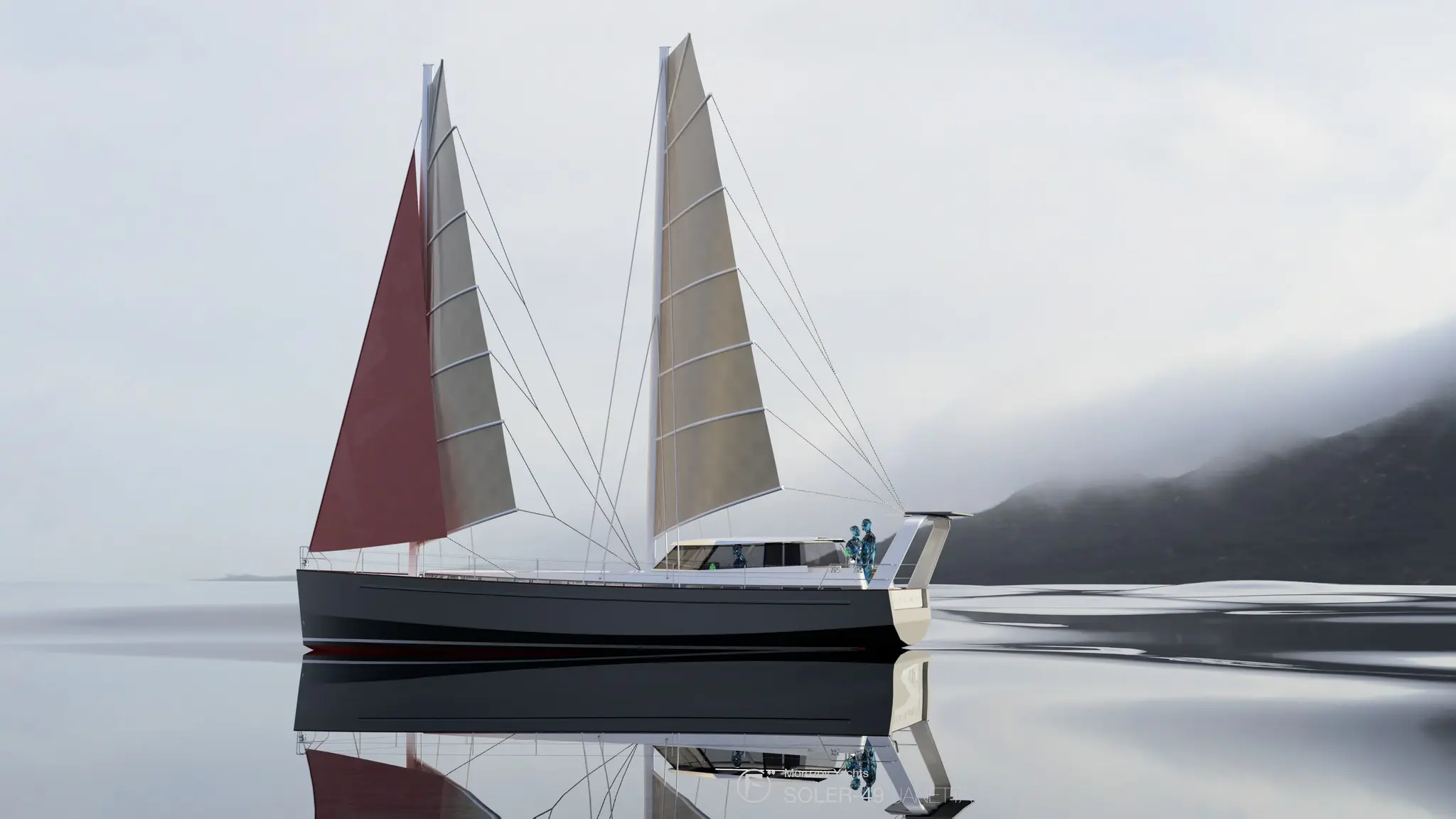 Soler-49 Janetta
Length
Beam
Draft
Height from WL
Sailing area
Displacement
Ballast
Water
Fuel
Yanmar
Cabins/places
Category CE
Concept
Vsualization
Naval architect
Shipyard
Concept
- fully enclosed wheelhouse for sailing in all weather
- partially protected cockpit with wheelhouse roof and sides
- full size bimini to protect the entire cockpit from the sun
- aluminum welded hull and deck with 3 watertight bulkheads
- watertight rudder box for safety reasons
- watertight forepeak locker
- separate compartments for batteries and pumps
- garage for dinghy with foldable transom gate
- Integral keel (no bolts) with moderate draft and lifting keel
- substantial storage capacity for supplies
- standard Yanmar 75-110 hp diesel engine with shaft and support bearing
- Gori 3-bladed folding propeller with overdrive option
- 2 fuel tanks with drain plug and water separator
- Whisper diesel generator 7.5 kW
- watermaker 100 l/h
- diesel heater in saloon
- diesel or electric stove stove in galley (without gas)
- aluminum Selden mast with a reliable junk type sheets
- electric sheet and halyard winches
- electric anchor winch with capstan for the second anchor line
- B&G electronivs ( chartplotter, autopilot, AIS, radar)
- B&G Wi-Fi module for data transfer to a tablet
- Icom VHF radio station with remote control in the cockpit
- Victron charger 220/12V 100 A
- Victron inverter 12/220V 3 kW
- lithium batteries 1000 Ah
- solar panels 800 W