23.95 m
6.28 m
2.50 m
247 m2
55000 kilos approx
2000 l
2000 l
Volvo-Penta D6-300 300 h.p.
"A" Ocean
Alexander Morozov
Olivier van Meer
Olivier van Meer
360a3-Morozov Yachts


ZEFIR-76 is modern classic yacht for family cruising in comfort with charter potential in the offseason. The panoramic deck saloon and hard bimini protected cockpit make the voyaging safe an enjoyable. The yacht has the high quality neo-classic interior and full specification of modern equipment. The quests will accommodate in one master cabin and 2 guest cabins, total of 6 persons. The crew consists of skipper, mate, stewardess and part time cook, which are accommodated in separate 2 aft cabins.
Modern and simple B&R rigging type allow to have the large sail area and get the good performance in light and moderate winds. The powerful aluminium hull with fully protected skeg rudder and propeller, moderate draft and large volume of tanks, make this yacht as real long range comfort cruiser. General sailing area is Mediterranean sea in summer or the Caribbean area in winter, but distant points can also be visited as desired.
The concept of the yacht was originated by Alexander Morozov, the naval architecture and engineering by Olivier van Meer Design, the builder of the yacht is 360a3 Yachts S.L.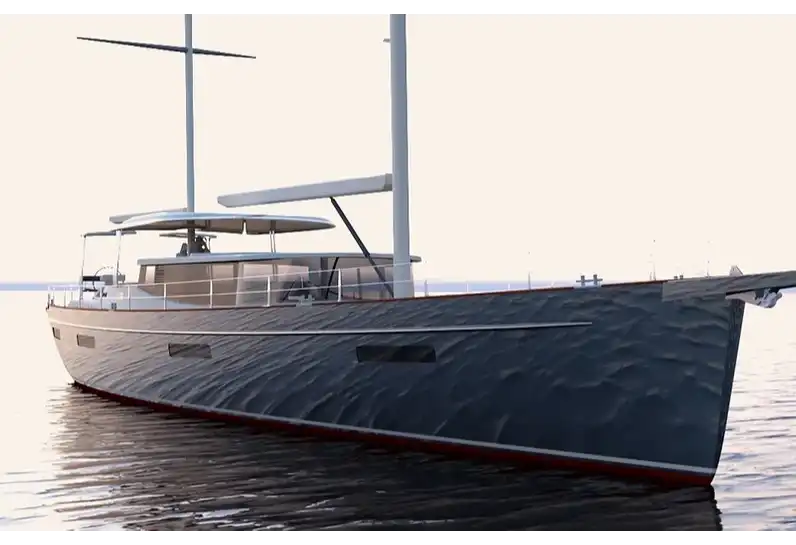 Concept
Length
Beam
Draft
Sail area
Displ.
Fresh water
Fuel
Engine
Category CE
Concept
Design
Naval architect
Builder


ZEFIR-76 Ketch
Features
fully enclosed pilothouse deck saloon for all weather sailing and inside steering
protected cockpit with hard top bimini roof
professionally built aluminium hull and deck with high quality painting
Fully skeg protected rudder and propeller
built-in keel box with lead ballast inside
B&R rigging with possible to twice increase the sail area downwind
reliable and economical modern engine with double remote control
2 generators with power control manage ment system
bow and stern thrusters for easy manouvering in the port
moderate draft for possible access to shallow waters area
big volume of fuel and water tanks for long and independent cruising
aft garage for the full size dinghy and toys with folding aft platform
hydraulic passarelle for easy access to the berth or side ladder for alongside berthing
modern classic light interior, not overloaded with details
a lot of storage place and lockers
full size galley for professional cooking and storage of provision
full specification with electronics and other equipment
the yacht is semi-custom and the design can be modified upn order